We have a couple different of Gate Handles to fit your customers needs. Made of Stainless Steel and powder coated in either black or white, these handles will stand up to the elements and give your gate the finishing touch it needs.

VP-HANDLES
Injection-molded with hidden corners. Flaps cover screw holes. Does not come with screws.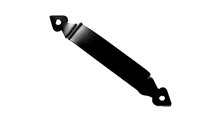 KSS-HANDLE
Ornamental Gate Handle made with stainless steel, for easy opening and closing of gates. Comes with 2 Stainless Steel Philips-Head Screws.